What are the advantages of dust cover of suit cover? Choose a suit dust cover, choose a non-woven suit dust cover, dust cover, non-woven environmental protection, no odor, not easy to aging, and the dust-proof function is also good. Today, Xiaobian will talk about the advantages of the dust cover of the suit cover.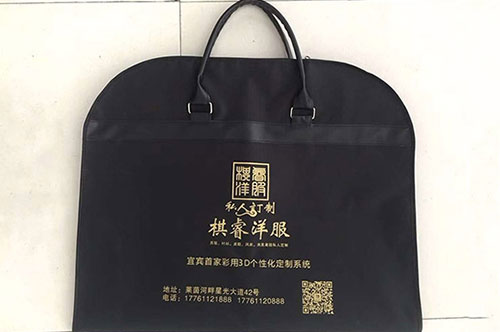 Advantages of dust cover of suit cover:
  1. New material non-woven fabrics, a new generation of environmental protection materials, can be directly used as masks, which is more environmentally friendly and lower cost than other packaging (paper bags and plastic bags).
  2. Adopt good active and environment-friendly printing technology as the outer packaging of suits to facilitate consumers.
  3. Double needle zipper adopts double needle zipper, which is more firm and smooth. Good quality and longer use time! The suit manufacturer's logo is printed on the bag to advertise for the manufacturer.
  4. Perfect. The use of dust cover can make clothes spacious and fashionable, dust-proof, mildew proof, moisture-proof and moth proof. After purchase, consumers can easily save and store suits at home.
  Suit cover dust cover and non-woven dust bag refer to the non-woven dust bag used for suits or other clothing, which can be matched with PVC, zipper and other auxiliary materials. It is a kind of clothing bag. suit. The coat needs careful protection. When you put the dry cleaned clothes in the wardrobe, the next time you take them out, you will find dust on them, so the non-woven dust bag. The dust cover of suit cover can help you solve all your troubles, effectively prevent dust, mold and moth, save space, keep it straight, neat and orderly, and let you worry free.
  The above is the introduction of suit dust cover. I hope Xiaobian's article can give you some help and reference value. In addition, if necessary, customers can directly contact our company for consultation.